The following was posted to alt.music.gwar by none other than our Cyber-Overlord BalSac, the Jaws Of Death, on November 26, 1996. Wherever possible, I have tried to provide illustrations. All cartoons are taken from Slave Pit Funnies and other GWAR Comics, all available from Slave Pit.

Note: This page has many inline images and may take a long time to load. You may wish to open a new window in your browser and continue web surfing until the page has fully loaded.
---
Here's the 100 words and the definitions.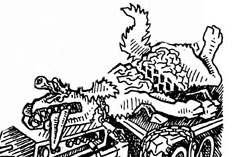 1 ) POOKIE THE WONDER DOG
Necro-bestial attention getter.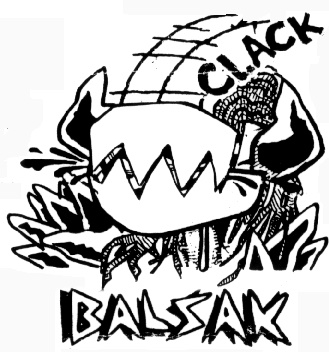 2 ) BALSAC THE JAWS OF DEATH
Bear-trap jawed GWAR guitarist.
3 ) LUMPY McNUGGET
Heavily abused runaway.
3 ) GWAR BABY
Short-lived inter-band offspring.
4 ) TOILET SUMMONING
Messy ritual needed to contact Plane of Fudge.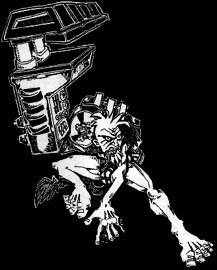 5 ) TECHNO DESTRUCTO
Crazed cyborg marauder on confusing mission.
6 ) DUKE OF DOGMA
Obscure paper mache piss bucket attendant.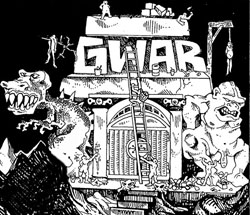 7 ) TEMPLE OF GWAR
GWAR's Earth-bound Antarctic fortress home.
8 ) MEAT SANDWICH
Song and video from GWAR's most recent album, "RAG NA ROK".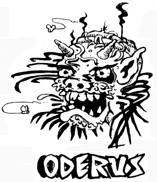 9 ) ODERUS URUNGUS
GWAR's tempermental lead singer.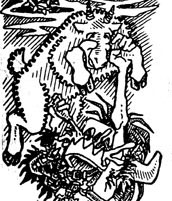 10 ) GOATY THE LOAD
Fluid filled animal friend.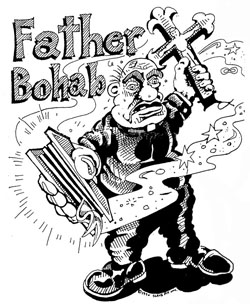 11 ) FATHER BOHAB
Anally endowed Papal Advocate.
12 ) GLOMCO
Gigantic corporation bent on owning entire world.
13 ) THE WIDE WORLD OF SPORTS
Jizmak home world. Lots of frisbees.
14 ) SICK OF YOU
Super-smash GWAR hit from "Scumdogs of the Universe".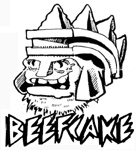 15 ) BEEFCAKE THE MIGHTY
Gluttenous GWAR bass player.
16 ) LICKY LOAF
GWAR delicacy made out of dogshit.
17 ) PATCHES
Lumpys best friend, kills Mom in "Phallus".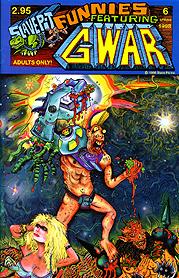 18 ) SLAVE-PIT FUNNIES
Full- color comic drawn by the artists of GWAR !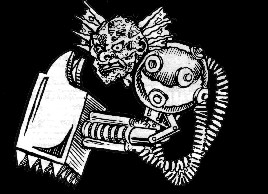 19 ) BOZO DESTRUCTO
Techno's equally violent little brother.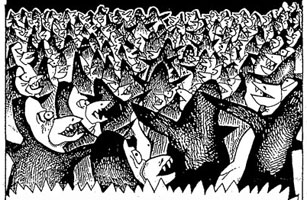 20 ) MUTANT PENGUINS
20-ft.tall, pissed-off, and conquering Brazil.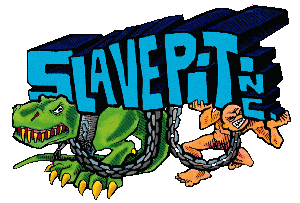 21 ) THE SLAVE PIT
GWAR dungeon level that is the home to the Slaves of GWAR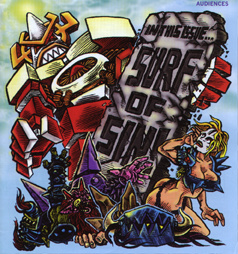 22 ) SURF OF SIN
Theme song and video featuring Cardinal Sin.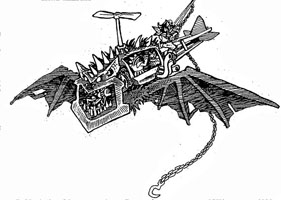 23 ) BAT-SHAPED HELICOPTER
GWAR's crack-powered hot rod.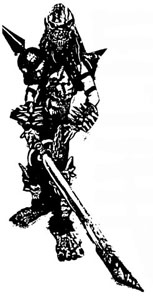 24 ) UNT LICK
Sword of Oderus.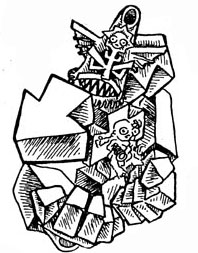 25 ) CARDINAL SIN
Intergalactic holy warrior that eats babies.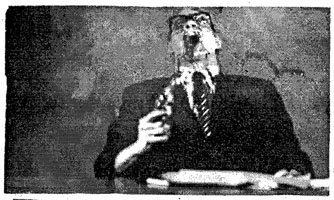 26 ) DICK COX
Suicidal Newscaster and gunbuff.
27 ) CLITOSPHERE
Slymenstra's homeworld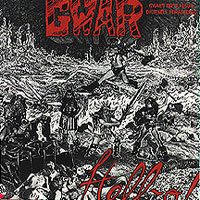 28 ) HELL-O !
GWAR's first smash album.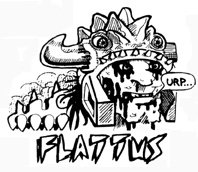 29 ) FLATTUS MAXIMUS
Constantly farting GWAR guitarist.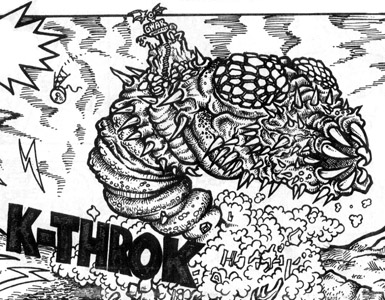 30 ) WORLD MAGGOT
Big worm that eats groupies.
31 ) PREGNANT BAG LADY
Easy to kill homeless person.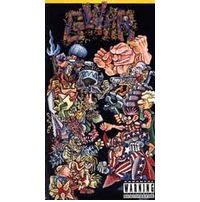 32 ) PHALLUS IN WONDERLAND
Grammy-nominated video.
33 ) ANTON REEMCOBB
Disembodied head that moonlights as an art critic.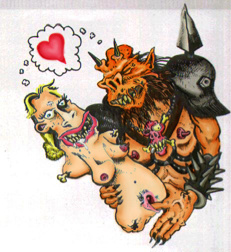 34 ) LATRINA
Redneck chick in "Rock n' Roll Never Felt So Good".
35 ) SCUMDOGGIA
Oderus's toxic homeworld.
36 ) SLUTMAN CITY
Anthem of excess from "Hell-o".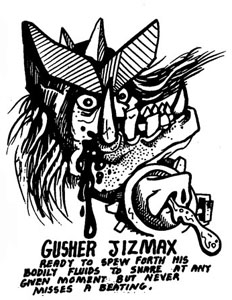 37 ) JIZMAK DA GUSHA
Dog-like; killed all GWAR drummers to get job.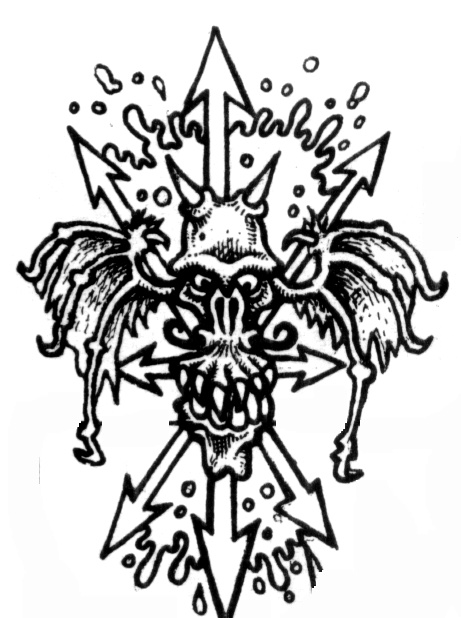 38 ) PRINCE RAY PIERRE
Secret name of the French Demon.
39 ) BIG SMELLY HIPPY
Real name is "Freedom". Killed in "Slaughterama".
40 ) CRAP-A-PULT
Chaotic GWAR weapon best at splattering amps with spew.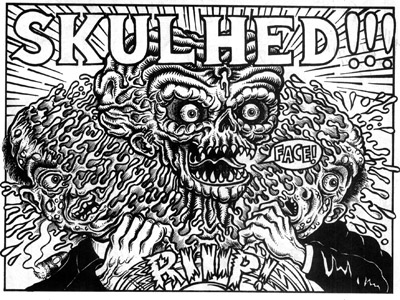 41 ) DR. MR. MRS. PROF. SKULHEDFACE
Schizophrenic transexual super-genius.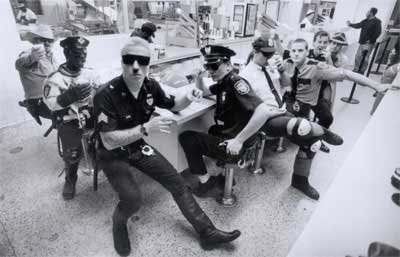 42 ) X-COPS
GWAR dressed up like cops.
43 ) WAY PAST URANUS
Over-used joke phrase.
44 ) FIRE IN THE LOINS
Slymenstra's song on "Ragnarok".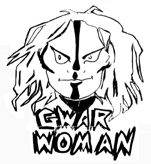 45 ) SLYMENSTRA HYMEN
GWAR's ferocious female.
46 ) SCUMBUCKET
Liittle known Slave Pit inbred country shitkickers.
47 ) UNCLE KNOBBY
Helpless parapelegic who had jet engine dropped on him.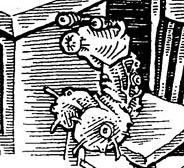 48 ) CUTTLEFISH OF CTHULU
Legendary penis creature.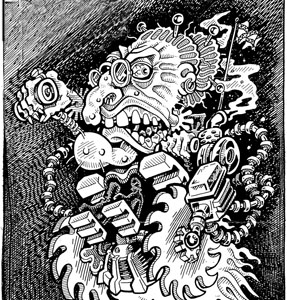 49 ) GRANBO AND THE MORALITY SQUAD
Super-right wing paramiliatary squad and known weinie-stealers.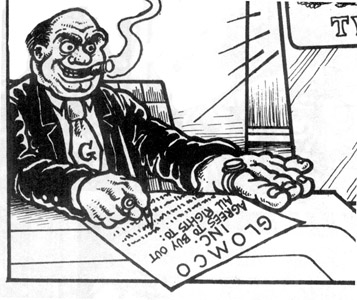 50 ) BOSS GLOM
Jello Biafra in disguise.
51 ) DEATH POD
Hulking War Machine built by the Master to contain GWAR.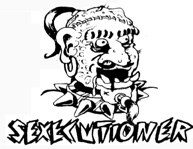 52 ) SEXECUTIONER
Penultimate Prince of Perversity.
53 ) SATANS SKINS
Nazi Skins who worship Hitler as the Devil.
54 ) CRACKZOOKA
The only crack pipe big enough for GWAR.
55 ) LAWN JOCKEY
Anti-racist Slave Pit movie.
56 ) DR.D.BILL ATTATED
Medical member of the Morality Squad.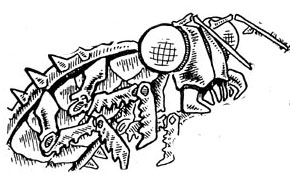 57 ) CHERNOBYL COCKROACH
Radiated household pest half a mile high.
58 ) SALAMINIZER
First song on Scumdogs.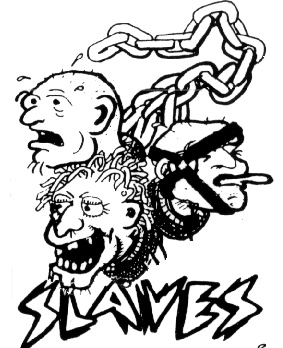 59 ) SLAVES OF GWAR
Without them GWAR would be naked.
60 ) MEAT GRINDER
Handy kitchen device for slaughtering millions.
61 ) INTERGALACTIC WRESTLING
Most popular sport in outer space.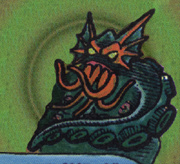 62 ) LOG-SUCKOFF
Pizza-delivering demon from the Plane of Fudge.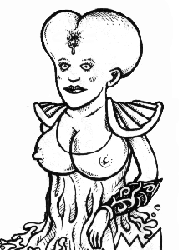 63 ) BUTTHEAD QUEEN
Peaceful Queen drained of Jizmoglobin by Cardinal Sin.
64 ) THE HORROR OF YG
Al Jourgensen of Ministry produced this song from "Scumdogs".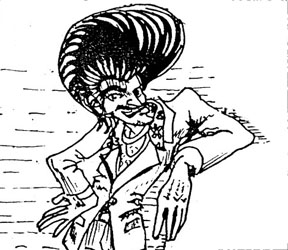 65 ) SLEAZY P. MARTINI
GWAR's shotgun packing manager.
66 ) THE ROTTING CARCASS OF BURL IVES
Popular Oderus love toy.
67 ) RAGNAROCKER
Pork-rind eating followers of GWAR's apocalypse.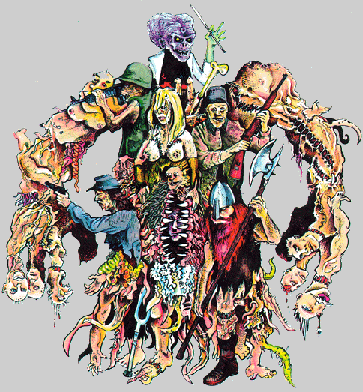 68 ) THE FLESH COLUMN
Skulhedface's undead pet behemoth.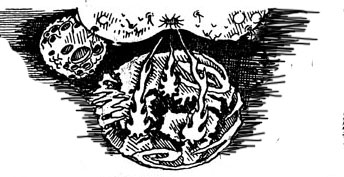 69 ) THE MASTER
GWAR's creator and ultimate overlord.
70 ) COBB KNOBBLER
Gay Satanic X-Cop member.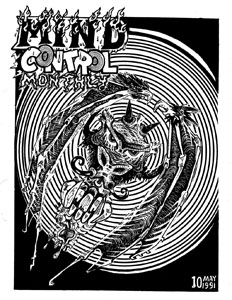 71 ) MIND CONTROL MONTHLY
Semi-regular fanzine.
72 ) JOEY SLUTMAN
Gravel-throated GWAR vocalist from "The Dim Time".
73 ) HOMOGENIZER
Skulhedface used this machine on Sebastian Bach.
74 ) SPERM N'SLIDE
Disease-infested lawn toy.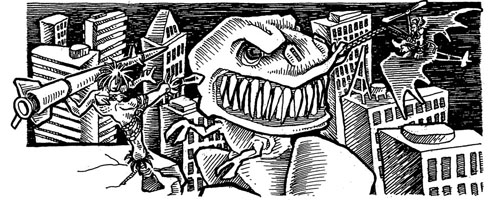 75 ) GOR-GOR
Insane T-Rex rumored on the comeback trail.
76 ) VLAD THE IMPALER
Infamous song, count, and rib-tickler.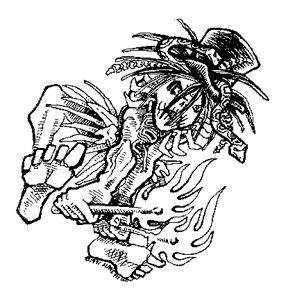 77 ) HANS ORIFICE
Continually urinating pre-Jizmak drummer.
78 ) DAIRY -AIRE
Three man acoustic improv comedy hardcore band.
79 ) SLAUGHTERAMA
Game show theme to impossible contest.
80 ) CORNIELIUS CARNAGE
GWAR's ancient guitarist now helps around the office.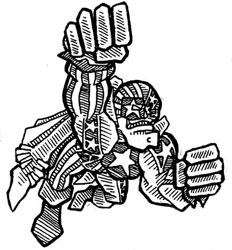 81 ) CORPORAL PUNISHMENT
Granbo's nephew and cheif enforcer.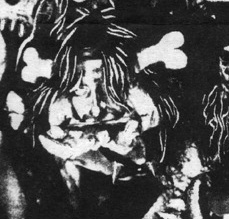 82 ) LEE BEATO
The only GWAR drummer who ever had wings.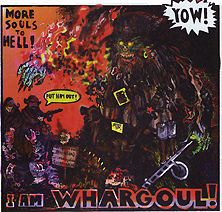 83 ) WHARGOUL
Undead beast that feeds on war.
84 ) ROCK 'N' ROLL PARTY TOWN
First GWAR song ever.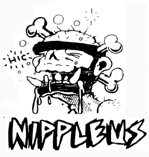 85 ) NIPPLEUS ERECTICUS
Drummer on "Hell-o" who drowned in acid
86 ) CERUTTI FANCYPANTS
"Phallus" CIA agent that never spoke and then blew up.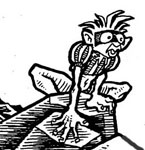 87 ) PRIVATE PARTS
Corporal Punishments sidekick and gay lover.
88 ) SLUGGO P. MARTINI
Sleazy's long lost brother who is buried under Giant Stadium.
89 ) TINY
Morality Squad member with "split personality"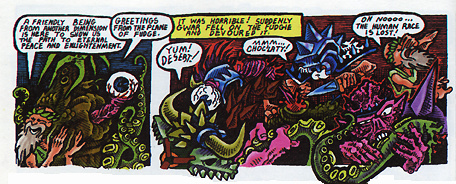 90 ) THE FUDGIES
Intra-dimensional poop-bringers.
92 ) THE NEW PLAGUE
GWAR's new disease transmitted by looking at people.
93 ) SADDAM A GO-GO
Blatant endorsement of Persian Warlord.
94 ) SEX COW
Slave-Pit marital aid.
95 ) DR.SHARON NEEDLES
Government employee that invented AIDS.
96 ) THE ALL-EYE
Lost Oderus power bone.
97 ) YG
Lovecraftian beast adopted by GWAR.
98 ) JIZMOGLOBIN
Life-Juice coveted by Skulhedface.
99 ) DEATH PIGGY
Richmond va. hard core band circa 84. Was silly.
100 ) AIRWALK
GWAR's official shoe endorser.
---
additions from oderusu@ctainforms.com:
101) MELVIN FLEEBISH
the lucky contest winner who gets what he FUCKING deserves.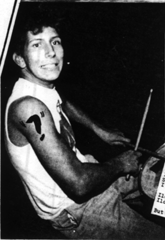 102) SEAN SUMNER
the LATE drummer of death piggy and sometimes GWAR
103) ANNOUNCER
the announcer for INTERGALACTIC WRESTLING.
104) OLLIE NORTH
Slymenstra's play thing
105) AMI ROBERTS
brad's (aka jizmak da gusha) wife.
106) RAWG
gwar tribute band.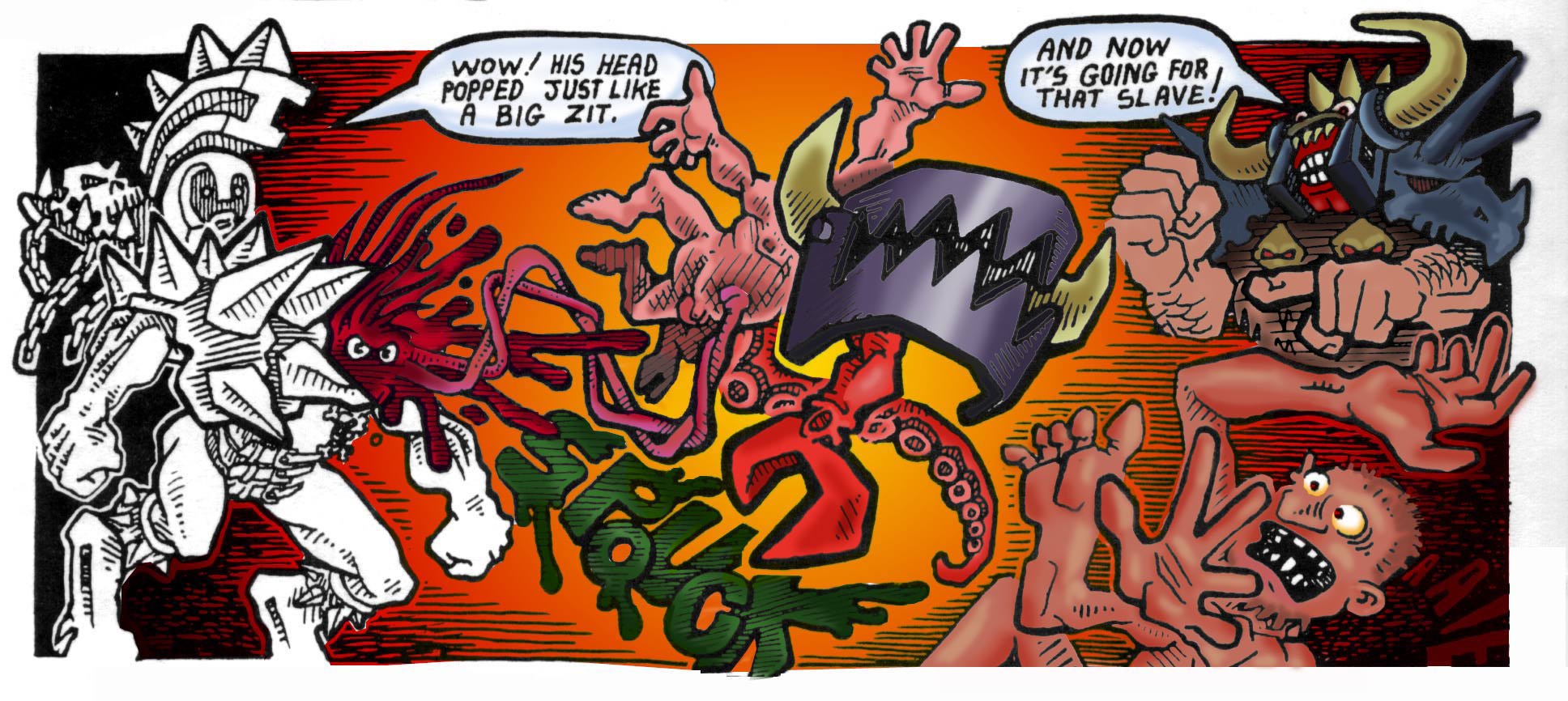 107) SMALSAC
balsac's offspring.
addition from mcmikeyb@aol.com: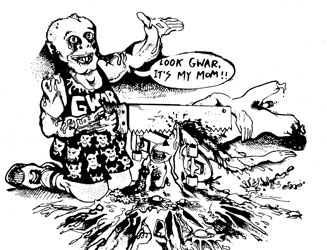 108 ) BOHAB
All of you who printed this list to use later when hanging out by the bus after a Gwar show.
addition from Steve Slack:
109) FLAIL-O
Free improvised jizz rock.