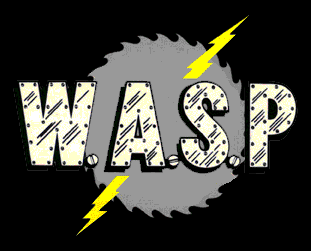 All The Shit That's Unfit To Print
---
A little more info
From Feb 12, 1997: I talked to Dan at the WASP office today and he had a little information for me. He said that Kill Fuck Die is the title of the new album, and it is expected for a Spring release, but no exact date or first single is set yet. He gave me a run down of the European tour dates they recently played, and also confirmed that MTV Europe had filmed at the UK show in Nottingham, and was supposed to air some of the footage on 2/13. He also said that a US tour is expected some time around April/May, after the release of the new album. Regarding the drummer situation, Stet will be staying with the band. And he wasn't sure at this time about the reissues of the CD's, or if the videos were going to be reissued.
---
Japanese Release Date
From Feb 6, 1997: Buccaneer Records (1-410-931-9380) lists the release date of Kill Fuck Die w/ bonus track to be released March 2. Less than a month away! Thanks to Craig Temple
---
WASP On Headbanger's Ball Europe
From Feb 6, 1997: WASP will be featured on MTV Europe's Headbangers Ball Thursday February 13th. Apparently it is a live feature about some band that has WASP as a warm-up act. Thanks to Tommi Takku.
---
European Mini Tour
From Feb 3, 1997: Blackie and the boys are playing a short series of warm up dates in the Netherlands, Germany, Italy, England and elsewhere in Europe prior to the release of their new album. According to reviews from Amsterdam and Hamburg, the shows are sicker than ever, including throwing shovels full of live worms and dirt into the audience, and Blackie raping a pregnant nun with a knife attatched to his codpiece, then pulling out the bloody fetus and impaling it on the knife. Maybe this is Blackie's attempt at a pro-choice statement! :)
---
New Album Title
From Jan 25, 1997: According to the April 97 issue of Metal Edge, the new WASP album will be titled Asylum No. 9. So what is the right title? The mailorder companies have it listed as Kill Fuck Die. We will find out shortly.
---
WASP In Magazines
From Jan 25, 1997: A couple of new magazines on the stands to look out for: the April 97 issue of Metal Edge has WASP as part of their "What's Hot For 97" feature, and has a recent picture of Chris with a fan at their Palo Alto show last fall. Also be on the lookout for the March 97 issue of Hit Parader which has a feature on Black Forever in their Song Index section. Unfortunately, they don't have their facts straigt as evidenced in the opening of the article: "If you were a big fan of W.A.S.P.'s blood-curdling brand of rock and gore back in the '80's, then you'll love their latest Not Black Enough CD. The first single, appropriately titled Black Forever is already becoming a crowd pleaser on W.A.S.P.'s current trek across America." Kind of funny since the Black Forever single has been out since May of 1995, and the band has only played three shows since the Crimson Idol tour in '92. Oh well, let's just be happy that they saw fit to include WASP at all. Now if MTV would just play the video...
---
New Album Listing
From Jan 9, 1997: In the latest mailing from Esprit mailorder, they have a listing for the Japanese import of W.A.S.P.'s "Kill Fuck Die" due in March, with bonus tracks.
---
Animal Update
From Jan 5, 1997: Burn from Animal has filled me in with the latest news on what him and Randy Piper have been up to. They finished up a three song demo right before Christmas, and are going back into the studio in mid-January to record four more tunes. They should be getting out and playing some live shows starting in February. They also have a web page where you can find out more info on these guys.
---
Stet Howland Leaves
From Dec 21, 1996: As told to me by Chris Holmes himself, Stet Howland has left the band over creative differences stemming from W.A.S.P.'s return to their violent theatrical style of the early eighties. Apparently a new drummer has been chosen and I should have information on him soon.
---
From Nov 1996: The boys performed three dates in California recently to get the word out the Chris Holmes is back! Follow this link for a detailed review by Wasp94, complete with several pictures he also graciously provided. The rack is back!
---
!!!Important W.A.S.P. Update from Wasp94@aol.com!!!
* WASP played only three shows. Palo Alto CA. on 9/29....San Diego on 10/2...Hollywood on 10/4
* The shows were meant to be warm-ups and get the word out to the industry that WASP has returned with Chris Holmes
* Chris is back in the band on a full time basis. He supposedly went through extensive alcohol rehab over the last year. He is 100% clean according to Blackie
* Lineup is... Blackie Lawless, Chris Holmes, Mike Doda (ex-Arcade) bass, and Stet Howland on drums.
* New untitled album is about 80% finished. Blackie still needs to lay down his vocals and keyboards. Release is expected around March 1997 with a world tour to start at that time. This current lineup will be performing on the new album.
* As you see in my review of the Hollywood show, The rack is back. Slightly different this time around....the girl is not nude...she has black tape covering her nipples.
* WASP was to have sacrificed a pig during the Hollywood show. I'm still in the process of finding out why they were going to do that and why it eventually didn't take place. I talked to Blackie briefly following the show, but backstage was total chaos so we didn't get to discuss anything meaningful....just basic "great show" type of conversation. [Note: according to a post on alt.music.w.a.s.p, the pig died of unspecified causes out in the van before they could get it inside]
* 2 brand new songs made their debut in Hollywood Friday night...."Kill Your Pretty Face" and "Kill, Fuck, Die". The woman had her throat slit during "Kill Your Pretty Face"....both songs are INTSANT WASP CLASSICS...very dark, brooding, violent songs
* Blackie is wearing the black eyeliner again....the sawblades are back on his arms also...he looks meaner than ever!!
* This has to be the best WASP show I've seen EVER!...and i've seen EVERY tour since 1983. Blackie is meaner than ever....more pissed off than ever.
We MUST get the word out.....WASP IS BACK!
---
New Album(s) News
From Oct 1996: Still Not Black Enough is finally out in the US and Canada! Yes, I mean it this time! I have seen it with my own eyes, held it in my hands... Breathe has been removed from the album, but Tie Your Mother Down, Skin Walker, One Tribe, and Whole Lotta Rosie have been added. So if you don't already have all of these tracks, go out and get it! Hell, if you do already have them, buy another copy anyway!! Now, let's just hope the new album will be released in the US simultaneously with the rest of the world this time.
---
W.A.S.P. Nest to be featured in Japanese magazines!
From Nov 1996: I recently received an e-mail from Takarajimasha, Inc. that they wanted to feature the W.A.S.P. Nest in four of their magaines, Playing Windows, Mac As #1, DOS V User, and Sexy Dolls. (Unfortunately, there is no web page for Sexy Dolls :( ) Note: much of the text is in Japanese, so unless you have Japanese language software for your computer, it will come out as gibberish.
Official W.A.S.P. page up and running at Castle Records US Website.
I E-mailed them to request that they reissue all of the old W.A.S.P. albums along with bonus b-sides, and they wrote back saying that this is planned for early 1997! I'm hoping I'll finally be able to get a copy of Paint It Black on CD...
---