W.A.S.P. 1997 And Beyond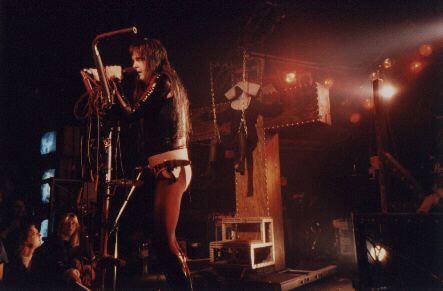 This page has been added to compile all of the news, reviews, and miscellaneous shit regarding W.A.S.P.'s activities in 1997 and beyond and the new album Kill Fuck Die. Any information you can send me about current appearances, concert reviews, and magazine articles (especially from outside the US) will be appreciated.
---
W.A.S.P. has announced a new fan club, the W.A.S.P. Nation. This is your chance to get WASP news, merchandise, videos, and even backstage passes.
---
First Castle Remasters Released
The first two remastered W.A.S.P. albums have been released in the U.K. on Snapper records, and are available over the internet at Mass Music W.A.S.P. includes Animal, Show No Mercy, and Paint It Black as bonus tracks. Last Command includes Savage, Mississippi Queen, and five live songs from the 1984 London Lyceum show: On Your Knees, Hellion, Sleeping In The Fire, Animal, and I Wanna Be Somebody. Look for the U.S. releases to soon follow.
---
Blackie at New Jersey Horror Convention
Recently, on August 23, Blackie Lawless appeared at the New Jersey Horror Expo to sign autoraphs and answer questions from fans. Other celebrities in attendance include Bruce Kulick (whose swan song with KISS, Carnival Of Souls, is due in record stores October 28), Robert Englund (a.k.a. Freddy Krueger) and Elvira. Thomas Henrich sent me this picture of His six month old son Austyn with Blackie at the Horror Con.
---
New Live Album Planned
To celebrate their 15th Anniversary, W.A.S.P. will be releasing a live album collected from the last shows before disastrous end of their US tour. I was at the last show in Chicago, and let me tell you they sounded fucking great! At once both tight and raw, if the live album sounds half as good as the show did, it's going to blow your eardrums. It's likely that the songs on the album will include Kill Your Pretty Face, The Horror, Killahead, U, I Don't Need No Doctor, On Your Knees, Hellion, Chainsaw Charlie, LOVE Machine, I Wanna Be Somebody, Wild Child, Animal, and Real Me. Even better, the band plans on touring to support the album, so if you missed them on their short tour this year, they should be back on the road in early 1998.
---
Due to conflicting personalities, the the W.A.S.P./Motorhead tour (with the Impotent Sea Snakes opening) was cancelled with less than a week before it was over. For more details, read the official Press Release.
---
As part of the aborted Castle web page project I was working on, I got a chance to talk to Blackie for about an hour a couple of months ago. I asked him some questions relating to the page, and also some miscellaneous questions too.
He said that the next single will be Killahead. I asked if there would be any unreleased b-sides on it, and he said probably not becuause they didn't have much material left over from the recording sessions. I told him I had heard of two other songs from the sessions, Asylum #9 and Organgasm (I think Blackie said that Orgasmatic was the correct title) that didn't make the album, and he said that these were two unfinished ideas that they had worked on, but weren't properly recorded. Seeing as the single hasn't been released yet and the band is now at work on new projects, it's likely that it will not be released.
Also, I've had many people ask me if Blackie was any relation to Xena's star, Lucy Lawless, who bears a strange resemblance to Blackie. He kind of laughed and said that, no, that was just one of those strange Hollywood coincidences.
I also asked him why there weren't any lyrics in the US and European versions of KFD, and he said it had to do with the packaging, that they wanted to do something fun with the CD format since the CD doens't allow much freedom for cool packaging like the Led Zeppelin and Alice Cooper album covers of the seventies. Anyway, the special packaging cost Blackie $.35 per copy straight out of his pocket. Including a lyric book with the package would have added even more cost to it. Thirty five cents may not sound like a lot of money, but if the band sells even only 500,000 copies worldwide, this will cost Blackie $175,000.
---
New Web Page Aborted
I had been working with Castle Records US on a new web page, called the W.A.S.P. Inter-Nest which was going to include song clips, videos, interivews, a timeline, and lots of pictures. Unfortunately the person I was working with is no longer with Castle, and the project has been scrapped. I do plan on incorporating the pictures, timeline, and other parts into the W.A.S.P. Nest.
---
The Manson Connection?
It was printed in Kerrang! that Marilyn Manson is going to do a remix of Animal. This is partly true. Manson has contacted Blackie expressing an interest in doing a remix of Animal (Fuck Like A Beast) and they have faxed each other back about it but nothing has been confirmed yet. Both bands are now off the road, so if it ever does happen it will be soon.
Blackie also said in the Headbanger's Ball UK interview from February that Marilyn Manson invited them to play at a private party in Los Angeles and they wanted to play the show, but touring schedules would not allow.
Also worth noting is that like many other WASP fans, Manson was a big teenage metal fan in high school and WASP was one of his favorite bands. The influence obviously shows!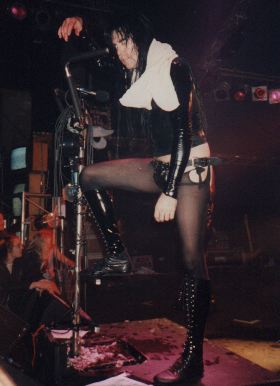 Press Bio
Sent to me by MalenkoNo1@aol.com:
For light to exist their must be darkness. Some embrace what others fear and since their earliest days as a band, W.A.S.P. have been treading where few will willingly go. W.A.S.P. concerts broke new ground in terms of on-stage decadence and lunacy while their recorded efforts stirred enough controversy to land them in serious trouble with governments around the world. There are rewards for taking risks as well as there are pitfalls but past history is not a big concern to W.A.S.P. The future is what counts since those pages have not yet been written.
For W.A.S.P. the future is now.
"The time is right for W.A.S.P. because there aren't enough bands doing this kind of music and the few bands that are trying to be extreme don't really know how to do it," explains W.A.S.P. mainstay Blackie Lawless. "Stark realism is the only thing that's going to really move people because that's the most frightening thing of all. The new record is just a part of the equation. Our live show is going to go blow people away to the extent that after we finish doing what we're doing, all bands are going to have to become hippies because there will be nothing left visually to do."
Time may not heal all scars but it certainly helps them fade and after an eight year separation, WASP founders, vocalist/guitarist Blackie Lawless and guitarist Chris Holmes, have reunited forces. The Lawless/Holmes songwriting tandem are responsible for the ten tracks which make up W.A.S.P's latest effort- KILL, FUCK, DIE.
Written and recorded in Los Angeles during the end of 1996 and early '97, KILL, FUCK, DIE taps into the darker side of the human psyche'. It's the abstract artwork found within bruises that only a predator can see. It's the emotional release of vengeance that only the scorned knows. Produced by Blackie Lawless and engineered and mixed by Mikey Davis, KILL, FUCK, DIE incorporates modern technology such as samples, loops, and computer sequences along with driving guitars, a bombastic rhythm section, and, of course, Blackie's inimitable vocals. Bassist Michael Duda and drummer Stet Howland fill out the W.A.S.P. lineup. Brutally violent, sexual explicit, and politically incorrect, tracks like "Take The Addiction", "My Tortured Eyes", "Killahead", "Kill, Fuck, Die", "Kill your Pretty Face", "Little Death", and "The Horror" are W.A.S.P. at their over-the-top finest. After just one listen, it's rather apparent that W.A.S.P have returned to their crimson splattered roots of sex, blood, and rock n' roll.
"This was the single most difficult record I've ever had to make," says Lawless. "You look at the music I've done with Chris and then the stuff without Chris, his influence is all over this album. Chris is the single most angry man I've ever met in my life and I feed off of his anger. Chris and I started writing at his demo studio. We spent a few months just bouncing ideas off of each other. I look at songs like a puzzle in the sense that I have a vague idea where certain parts are going to go. I'm pretty good at "chop rock" because I go in with a hatchet and start moving stuff around until they feel right. It took a lot of effort to get these songs to where I felt they were there strongest."
KILL, FUCK, DIE is a new dimension in shock rock where parental warning stickers serve as toilet paper. Violently sonic and multi-textured, the ante has been upped to separate the pretenders from the originators. The music world is currently filled with flaccid alterna-crap and formulated punk but W.A.S.P have brought back a crucial element to rock n' roll that has been missing for the past several years.... danger. Subtlety has never been a W.A.S.P. strong point but with the release of KILL, FUCK, DIE, W.A.S.P. have re-written the rules for extreme rock n' roll.
---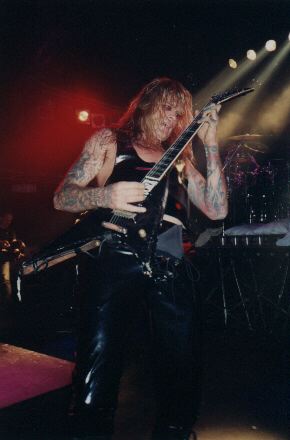 Kerrang! Review
From the Feb 19 issue of Kerrang!, here is a review of the Feb 8 Nottingham England show, sent to the W.A.S.P. Nest by John Oakley
---
Headbanger's Ball 2/13/97
The February 13 MTV Europe Headbanger's Ball interview has been painstakingly transcribed by Tommy Takku. This is must read information about their new direction!
---
Amsterdam Review
A review of W.A.S.P.'s Amsterdam show on January 31 from J.D. van Meines.
---
Hamburg Review
A review of the Hamburg show from Nils Kraft, complete with pictures. A word of warning: the boys have topped themselves this time and are sicker than ever. Not for those with weak stomachs!
---
Thanks go to Derek from S.A.V.A.G.E. for much of the current info, Shea from Castle, and everyone else who has contributed to this page, keeping WASP fans around the world in touch. Photos by Nils Kraft from the Hamburg show.
---