THE W.A.S.P. NEST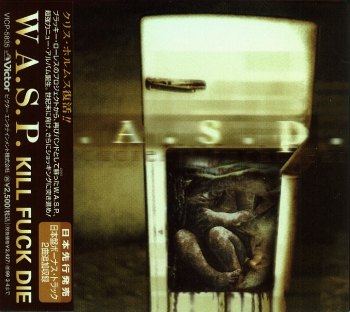 Welcome to the W.A.S.P. Nest, the web page devoted to our favorite group of White Anglo Saxon Perverts, W.A.S.P. Check this page out for discographies, FAQ, lyrics, pictures, tour dates (when available), and interviews from the past and the present.
---
Warning: although this page contains no graphic scenes of sex and depravity, some of the lyrics and interviews contain R-rated subject matter, so easily offended web surfers should go back to where they came now.
Another disclaimer: This page is in no way officially associated with or sponsored by Blackie, W.A.S.P., Sanctuary Management, Capitol Records, Castle Communications, Raw Power Records, or Victor Entertainment. It is strictly a non-profit, fan-based web page devoted to one of my favorite metal bands.
---
Taking The W.A.S.P. Nest To The Next Level
If you have found this page, then you have probably guessed that it is now at the Next Level's server. My apologies for taking it so long to get it back up, but since I've moved it seems that I haven't nearly as much time to spend online as I used to. The pages are currenly in dire need of updating, and I'll be working on that over the next couple of weeks, but you can look forward to lots of exciting new additions such as an expanded pictures page, MP3 sound files, and even some video clips. And take note, my new e-mail is huntermc@gmail.com so you can ignore any of the "mailto's" with my old address. Unfortunately, with the volume of mail I receive for the WASP Nest, I am unable to reply to everyone who writes to me (sorry) but I do read every message I receive. So if I haven't written back to you, please don't think I'm some arrogant dick, I just don't always have the time to keep up.
First W.A.S.P. Remasters out in U.K.! The first two remastered W.A.S.P. albums have been released in the U.K. on Snapper records. For more info, check out the W.A.S.P. 1997 page.
---
Want to know more about the author? How I got into W.A.S.P., why I wrote the W.A.S.P. Nest, what else I listen to, check this one out.
Or check out Rock N' Fuckin' Roll, my home page with links to my Death Piggy, GWAR, Song Of The Week, and Tape Trading pages.
huntermc@gmail.com I welcome anything that you would like to provide to keep the WASP Nest the best resource for WASP stuff on the net. I would especially like to hear any reviews of shows from the summer tour.
---
---
Follow this link to sign a petition to get MTV USA to bring back the Headbanger's Ball. Over 3000 signatures so far and still going... Will they ever listen? Shit, I'd be happy if they would just show the MTV Europe HBB at 3 a.m. As long as I don't have to watch six hours of the fucking Real World
---
Winner Of The Powers Court Award For Great Contributions To Metal
The W.A.S.P. Nest has been awarded the Powers Court Metal Award for it's contribution to keeping heavy metal alive.
---