Following the departure of original bassist Olivia Newton Bundy, the Spooky Kids were in need of a talented yet dangerous new member. Enter Brad Stewart.
Taking his name from Gidget the 60's surf movie icon and notorious Wisconsin cannibal Ed Gein, Stewart finally brought the authentic element of rock 'n' roll debauchery that the fledgling band had been trying to achieve.
Gein brought the sex and the drugs to the Spooky Kids' brand of rock n' roll, but it was also eventually his undoing. Gein recorded on the band's Nothing/Interscope debut, Portrait Of An American Family, but his worsening drug addiction forced the band to send him home back to Florida. On Christmas day, with his bandmates still in LA, Gein received a letter from Manson informing him that his services were no longer needed. When the album was released a few months later, Gein's picture was nowhere to be found. Instead, his replacement Twiggy Ramirez was in all band photographs.
Gein returned a few years later with a new band called the Dali Gaggers, and released the album Just Add Nauseum. Dali Gaggers has now been put on the back burner as Gein focuses primarily on his fine art and gallery shows. Details of his latest work can always be found on www.gidgetgein.com, and you can even contact him on his Message Bored.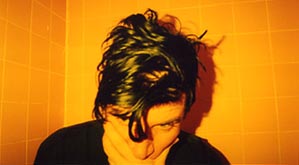 Despite the less than ideal circumstances of his separation from the band, GEIN has kept in contact with Manson over the years and the two remain friends. Most recently, GEIN appeared in Manson's (s)Aint video, directed by Asia Argento, which was included on the non-US versions of the Lest We Forget greatest hits DVD released in September 2004. When John 5 from kicked out of Marilyn Manson, rumors spread that GEIN would return to bass duties, but so far that has remained untrue.