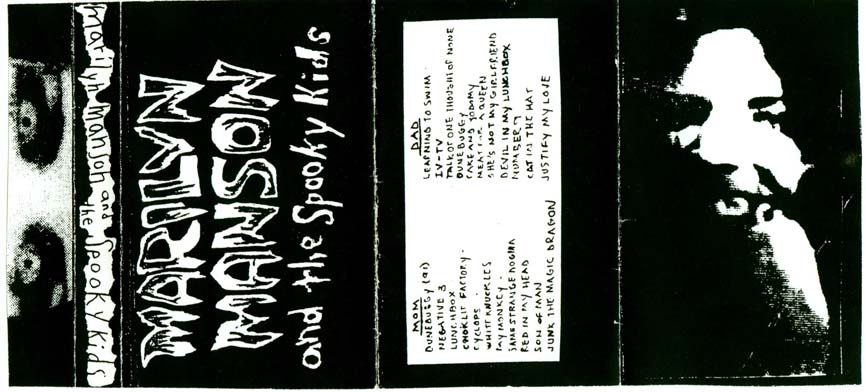 The 100 Minute Demo
This tape has been a source of confusion over the years, but is also the only known source of many early Manson songs. It has been written in old discographies that "The tape surfaced in early '95 when a 14 year old was found at a Manson concert who had a copy made from his brother's copy that was made from the original tape (i.e. a 2'nd generation copy), and gave it to a big Manson fan. The rest is history." It's my theory that the tape had to be put together either by a band member, or by someone very close to the band, since much of the material was apparently never sold to fans, or possibly never released at all.
The 100 Minute Demo is a compliation of After School Special, Big Black Bus, Grist-O-Line, and several other tracks that still haven't been 100% confirmed. A few are believed to be from Beaver Meat Cleaver Beat, according to the generally accepted track listing. Junk The Magic Dragon is believed to be from Raw Boned Psalms, although an original copy has yet to surface. It is also quite possible that this song simply was never released on any of the official demos, and the track was included as a bonus. There are also several odd, mostly spoken word kind of tracks that for the longest time had not been sourced, including Devil In My Lunchbox, Number Nine, Cat In The Hat, and Justify My Love. Daisy revealed in an e-mail that these were not Spooky Kids songs that he was involved with, these were from Manson & Geordie's side project, Satan On Fire. Still, since an original Satan On Fire tape has yet to surface, and Daisy wasn't involved with that project, it can't be 100% confirmed.
There is also some confusion over the track that was listed as Number Nine. There are actually three tracks between Devil In My Lunchbox and Cat In The Hat, but the track listing on the oldest known copy of the demo only has Number Nine listed in between. It's not know if there were proper names for all three of these songs, and the taper forgot to list them, or if all three are presented as a whole called Number Nine. The first section starts with a bunch of Spooky Kids hotline messages set to a drum machine beat , including some stoner dude named Dennis and someone else who says "I want to fuck your dad, Brad.". The second part is a spoken word piece by Manson, retelling a night out on the club scene. The final piece is commonly known as "Those Fuckin' Bitches" because is features a sample with that quote from the film Desperate Teenage Lovedolls.
Track List:
Side A:
1. Dune Buggy '91 (Lunchbox)
2. Negative 3 (After School Special)
3. Lunchbox (After School Special)
4. Chocklit Factory (After School Special)
5. Cyclops (After School Special)
6. White Knuckles (Big Black Bus)
7. My Monkey (Big Black Bus)
8. Same Strange Dogma (Big Black Bus)
9. Red In My Head (Big Black Bus)
10. Son Of Man (Beaver Meat Cleaver Beat)
11. Junk The Magic Dragon (unknown- maybe Raw Boned Psalms?)
Side B:
12. Learning To Swim (Lunchbox)
13. IV-TV (Beaver Meat Cleaver Beat)
14. Talk Of One, Thought Of None (unknown- maybe Raw Boned Psalms?)
15. Dune Buggy (Grist-O-Line)
16. Cake & Sodomy (Grist-O-Line)
17. Meat For A Queen (Grist-O-Line)
18. She's Not My Girlfriend (Grist-O-Line)
19. Devil In My Lunchbox (Satan On Fire?)
20. Number Nine (Satan On Fire?)
21. Cat In The Hat (Satan On Fire?)
22. Justify My Love (Satan On Fire?)